Carolyn Marie Wright is a dedicated, kind professional with nearly two decades of experience in Theatre, Film, Digital Media and Arts Education. Her extensive service as an artist, educator, and arts administrator has reached equity theaters, non-profit organizations, academic institutions and independent entertainment entities throughout Los Angeles, New York, Chicago, New Haven – and now Phoenix. She has seen firsthand how a person – or a community – can grow by participating in a theater workshop, discussing a play, or attending a performance. Her belief in the transformative power of the arts has fueled a career in Education & Community Engagement.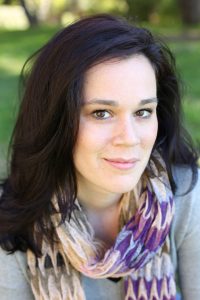 Carolyn's first play was The Frog Prince with Yale Children's Theater (YCT) during her freshman year at Yale. She played the King, and fondly remembers wearing oversized red pajamas, a padded bodysuit and a bald cap for the role! After touring local elementary schools in New Haven doing shows and theatre workshops with YCT, she quickly realized how performing and teaching would shape her life. At Yale, Carolyn went on to earn her B.A. in Theatre Studies with a double concentration in performance and playwriting. She spent several summers on theater staff at Paul Newman's Hole in the Wall Gang Camp in Ashford, Connecticut, working with children and teens living with chronic and terminal illnesses. Carolyn then moved to Chicago where she worked with Chicago Kids Company, performed a lot of Shakespeare, and trained at The Second City.
Her passion for performing arts and education – and the quest to learn more – inspired Carolyn to attend graduate school. Twice. She earned her M.A. in Educational Theatre at New York University's Steinhardt School and her M.F.A. in Acting at UCLA's School of Theatre, Film & Television – where she received the 2011 George Burns and Gracie Allen Fellowship in Comedy. Alongside her studies, Carolyn worked with MCC Theater and New Victory Theater in NYC, and Will Geer Theatricum Botanicum in Los Angeles.
Carolyn has since worked with K-12, college and adult academy programs throughout Los Angeles and Orange Counties and across the nation. She was on faculty at Moorpark College from 2016-2018 and was a guest artist with Looseleaf Theatre Company and adjunct faculty at Concordia University Irvine from 2013-18 where she taught Voice & Speech and Shakespeare, performed and directed. Other teaching credits include UCLA Acting & Performance Institute; University of La Verne; University of Central Arkansas; New York Film Academy; The Second City Hollywood; Young Storytellers Foundation; The Story Pirates; and A Noise Within Theatre.
In September 2015, Carolyn was appointed Manager of Education & Community Engagement at Geffen Playhouse where she managed and implemented the Geffen Playhouse Literacy Project; High School Partnerships Program; Lights Up program for community groups; and the Geffen Playhouse Veterans Writing & Performance Project. She also had the privilege to serve as a Geffen Playhouse Teaching Artist team during her three seasons on staff.
Carolyn relocated to Phoenix in the fall of 2018 to take on the role of Director of Education & Outreach at Valley Youth Theatre. In addition to her administrative responsibilities, she oversees the Literacy and the Arts program, teaches Acting, Improv and Musical Theatre to youth ages 3-18 and directs for the mainstage – most recently The Miraculous Journey of Edward Tulane.
She looks forward to continuing to help students and community members connect deeply to the arts in the Valley of the Sun and beyond.