I am an artist, educator, producer, and writer.
Over the course of my career, I have had the opportunity to work with equity theaters, non-profit organizations, academic institutions, and independent entertainment entities throughout Los Angeles, New York, Chicago, New Haven – and now Phoenix. I have seen firsthand how a person – or a community – can grow by participating in a theater workshop, discussing a play, or attending a performance. My belief in the transformative power of the arts has fueled a career in Education & Community Engagement.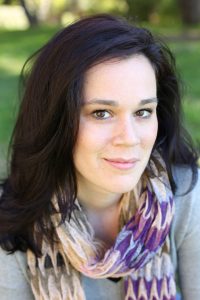 My first play was The Frog Prince with Yale Children's Theater (YCT) during my freshman year at Yale. I played the King, and fondly remembers wearing oversized red pajamas, a padded bodysuit, and a bald cap for the role! After touring local elementary schools in New Haven doing shows and theatre workshops with YCT, I quickly realized how performing and teaching would shape my life. At Yale, I went on to earn her B.A. in Theatre Studies with a double concentration in performance and playwriting. I spent several summers on theater staff at Paul Newman's Hole in the Wall Gang Camp in Ashford, Connecticut, working with children and teens living with chronic and terminal illnesses. Then I moved to Chicago where I worked with Chicago Kids Company, performed a lot of Shakespeare, and trained at The Second City.
My passion for performing arts and education – and the quest to learn more – inspired me to attend graduate school. Twice. I earned an M.A. in Educational Theatre at New York University's Steinhardt School and an M.F.A. in Acting at UCLA's School of Theatre, Film & Television – where I received the 2011 George Burns and Gracie Allen Fellowship in Comedy. Alongside my studies, I worked with MCC Theater and New Victory Theater in NYC, and Will Geer Theatricum Botanicum in Los Angeles.
I have since worked with K-12, college, and adult academy programs throughout Los Angeles and Orange Counties and across the nation. I was on faculty at Moorpark College from 2016-2018 and was a guest artist with Looseleaf Theatre Company and adjunct faculty at Concordia University Irvine from 2013-18 where I taught Voice & Speech and Shakespeare, performed and directed. Other teaching credits include UCLA Acting & Performance Institute; University of La Verne; University of Central Arkansas; New York Film Academy; The Second City Hollywood; Young Storytellers Foundation; The Story Pirates; and A Noise Within Theatre.
In September 2015, I was appointed Manager of Education & Community Engagement at Geffen Playhouse where I managed and implemented the Geffen Playhouse Literacy Project; High School Partnerships Program; Lights Up program for community groups; and the Geffen Playhouse Veterans Writing & Performance Project. I also had the privilege to serve as a Geffen Playhouse Teaching Artist team during my three seasons on staff.
I relocated to Phoenix in the fall of 2018 to take on the role of Director of Education & Outreach at Valley Youth Theatre. In addition to my administrative responsibilities, I oversaw the Literacy and the Arts program, taught Acting, Improv, and Musical Theatre to youth ages 3-18 and directed for the mainstage: The Miraculous Journey of Edward Tulane (2019) and The Princess and the Pea (2020).
Currently, I am the Theatre Program Director and an English teacher at Brophy College Preparatory, a private, Jesuit high school in Phoenix. I look forward to continuing to help students and community members connect deeply to the arts in the Valley of the Sun and beyond.